Doing as little as possible at all times and thoroughly enjoying life in doing so...
Tuesday, 28 February 2017
A place we are looking forward to visiting and by coincidence, we were chatting to a very nice chap who used to live there. He also agreed it's also very much worth a visit but prefers to live in Bangkok now.
Not Been
7. Kiev, Ukraine — £46.73 ($58.32)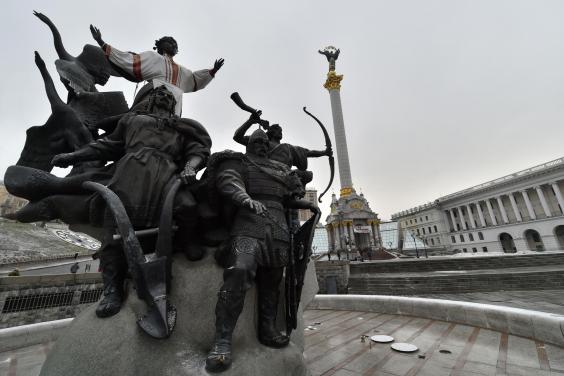 Hotel for two: £62.06 ($77.43)
Meal for two: £15.29 ($19.08)
Bottle of wine: £3.66 ($4.57)
Taxi: £1.55 ($1.93)
Cup of coffee: £0.94 ($1.17)
Cocktail: £2.99 ($3.73)
Pint of beer: £0.75 ($0.94)
Posted by

karTER
at 06:17
No comments:


Monday, 27 February 2017
Supposedly back on the streets after a 17 year absence.
Big deal, I use the Samsung below- if I really need to. Most of the time it is switched off and sits in my pocket, "just in case".
Posted by

karTER
at 08:53
No comments:


Leicester City FC has taken the unusual step of sacking their match-day catering team after they failed to turn water into wine.
Despite creating meals that defied all expectations last season, the fact that miracles have not literally been performed this season was enough.
Vice-chairman Aiyawatt Srivaddhanaprabha told reporters, "Last season we handed the catering team a couple of loaves and some fish and they created a series of match-day delicacies that delighted everyone at the King Power Stadium.
"But this year, no matter how many jugs of water we provided, they didn't create one drop of wine. That is simply unacceptable by the standards of Leicester City.
"They used excused like one of their most important chefs being poached by Chelsea, but frankly they should be accepting responsibility.
"Leicester is the place of miracle, and if you can't keep delivering them, we'll show you the door."
The vacant position has been advertised as seeking applicants with a solid track record of 'healing lepers' or 'walking great distances over water'.
NT
Posted by

karTER
at 08:50
No comments:


A person is never happy except at the price of some ignorance.
Anatole France
French novelist (1844 - 1924)
Posted by

karTER
at 08:47
No comments:


I watched the pilot for "
Hi-de-Hi
" yesterday. Wifey walked straight out of the room again as soon as she saw what was on.
Why am I addicted to appalling TV? It's almost as bad as "Are you being Served". Yes, I have seen the pilot for that too...
Posted by

karTER
at 08:43
No comments:


First round of the 2017 WSBK kicked off down under this weekend and look forward to watching both races soon. Do NOT tell me the results, I will not be a happy camper if I find out before hand.
Posted by

karTER
at 08:39
No comments:


March 2017
Show last 5 matches and coverage

Competition

Fixture

Date

Kick-off

Status

Premier League
Sun 5 Mar
13:30
Premier League

Sat 11 Mar
FA Cup -

Sixth Round

Sun 12 Mar
14:00
Premier League
Sun 19 Mar
14:15
Lads, it's Stoke City. After the embarrassing exit from the Europa League on Thursday, Tottenham Hotspur eased back into Premier League action by thrashing their most submissive opponents. Mauricio Pochettino's team had beaten Stoke 4-0 in their two previous meetings and it took only one half for them to reach that score here, as Harry Kane struck three goals before inviting Dele Alli to hit another. If Wembley spooks Spurs, the sight of Stoke City jerseys cheers them right up.
Spurs, in fairness, have clobbered most opponents at White Hart Lane this season, their tally for the Premier League campaign now standing at 11 wins and two draws from 13 matches. But few visitors have been as obliging as Stoke, who, seemingly unrefreshed by a break in Dubai began as if expecting another trouncing. That was a self-fulfilling attitude that made them ideal opponents for a Spurs team eager to reassert their top-team credentials after flopping out of Europe at Wembley.
"We never really got out of the traps," admitted Mark Hughes. "We talked about having a bright start but that didn't materialise for us. Unfortunately we were a little bit too passive. At times we were just a little bit awestruck and had a little bit too much respect for them. Maybe some of the players had scars from the previous performances [against Spurs] but they shouldn't have because we have been in good form recently."
The first sign of Stoke docility came in only the fourth minute, when Christian Eriksen nutmegged Ryan Shawcross in the box and rolled the ball across the face of goal. Fortunately for Stoke there was no Tottenham player there to complete a tap-in but it was not long before Spurs players were infiltrating the area in swarms. Shawcross, for years the most formidable of sentinels for Stoke, was particularly discombobulated and Spurs' opening goal was a result of his confusion. As the defender tried to tidy up following another incursion by Eriksen in the 14th minute, Kane nicked the ball off him and lashed in a low shot from 15 yards.
Stoke attempted to stammer a retort and, in fairness, presented a cogent argument in the 24th minute in the form of a flowing move down the left involving Ramadan Sobhi and Erik Pieters. Peter Crouch nearly topped that off with a telling finish from four yards but Hugo Lloris had the last word with a superb save. "If that had gone in it might have stirred us from our slumbers," Hughes said. Spurs then settled the debate for good.
Jan Vertonghen fired a shot against the crossbar following a corner by Eriksen. Moments later Kane was more clinical. His second goal came courtesy of a perfectly executed half-volley from the edge of the area following an outswinging corner by Eriksen. The striker raised his left-leg with the grace of a ballerina and then brought it cracking down like a lion tamer's whip as he sent a fierce and impeccably controlled low shot into the net.
Kane completed his hat-trick five minutes later, this time with Lady Luck joining Eriksen on assist duty. The Dane rolled a free-kick to the striker, whose strike from nearly 30 yards seemed unlikely to worry Lee Grant until it deflected off Crouch and carried on past the nonplussed goalkeeper and into the net.
Kane may have had a hat-trick under his belt but he continued to contribute to Stoke's debagging. He embarrassed Bruno Martins Indi with a cheeky piece of skill before racing towards the box in time added on at the end of the first half. Instead of shooting from a difficult angle he presented Alli with the easy task of stroking the ball into the empty net.
Stoke, seemingly dazed by Spurs' speed and movement, looked like they could do with a break, and perhaps a lie down. They attempted to restore a measure of dignity in the second half, or at least preserve the ruins of it.
Preservation was the name of Pochettino's game when he withdrew Vertonghen and Toby Alderweireld in the second half amid complaints of slight strains.
Spurs did not over-stretch themselves for the sake of a fifth goal, especially after Kane collided with a post while attempting to convert a header. Alli tried to double his own tally in the final minute but flicked a shot just wide from six yards.
Alli's overall performance was bright – and unsullied by the sort of tackle that had earned him a red card against Gent on Thursday. Pochettino had words with him after that but would not disclose them here. "They will remain private but you can imagine," he said before adding with a smile. "I gave him more love than normal. He was very sad and disappointed [after Thursday] but he's only 20 years old. I will always protect and support him. He's one of the best young players in the world. Sometimes he can make mistakes but I want him on the pitch."
The win lifted Spurs to within 10 points of league leaders Chelsea. "The target is to keep winning and be there if anything wrong happens to Chelsea," Pochettino said. If only they could play Stoke every week.
TG
Posted by

karTER
at 07:21
No comments:


It must have been a bit of an anti-climax to go in at half time and be 4 - 0 up and then come out for the second and not score any more. Still, a top result, another hat-trick for Kane (his third this calendar year) and a brief visit to second spot as Man City wait for their game in hand.
And of course The Arse are going to win 7 - 0...
I'm more than happy.
Premier League
Posted by

karTER
at 07:19
No comments: