Once more Fifa considers more ways to rake in the moolah as they go to vote (Tuesday, 17th) to expand the World Cup to 48 countries. I think it is already to unwieldy and goes on for too long as it is but you can bet your last brown envelope they will push it through under the guise of "getting football back to grass roots."*
Still, it gives me an opportunity to post up a picture of Germany winning so that makes me happy.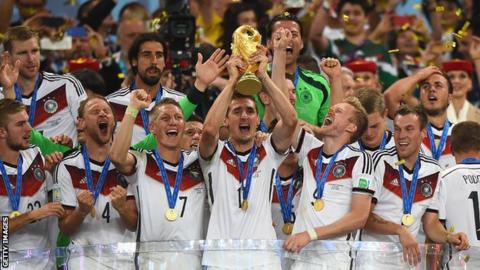 The five options the 37-member Fifa council will choose from are:
A 48-team World Cup consisting of 16 groups of three, with the top two sides qualifying for a last-32 knockout stage (80 games in total);

Another 48-team version consisting of a 32-team, one-game knockout round, with the winners joining 16 already-qualified teams (80 games - 16 in preliminary and 64 in main tournament);

Expanding it to 40 teams, with 10 groups of four and only six group runners-up advancing (76 games);

A 40-team tournament with eight groups of five (88 games);

Keeping the World Cup at its present size of 32 teams (64 games).
In Infantino's favoured option, the number of games rises from 64 to 80, but the finals can still be played within the existing tournament duration of 32 days, while a nation will play no more than seven matches, as in the present format.
One potential flaw is that penalty shootouts may have to be introduced to settle drawn group matches to prevent two sides playing out a result in the last round of games that ensures both countries progress.
BBC
*Having read through the article now, they are saying that the World Cup has to be "more inclusive" and that expansion will also benefit "the development of football all over the world".

Despite saying "the decision should not just be financially driven", Infantino did highlight the possible financial upsides.

According to Fifa's own research,

revenue is predicted to increase to £5.29 billion for a 48-team tournament, giving a potential profit rise of £521million.