Doing as little as possible at all times and thoroughly enjoying life in doing so...
Wednesday, 31 July 2013
Trying to eke out the the meagre remains of our data allowance to give us a final crack tomorrow, the start of yet another new month. Laters.
Posted by

karTER
at 17:02
No comments:


Tuesday, 30 July 2013
It's not only the data allowance that is hindering us, it's also the speed of download. Hanging, freezing and pausing are causing much grievance and so we'll leave you with C & H and be back later/tomorrow.

Ciao...
Only 4% of Americans know how to tie more than two knots.
Posted by

karTER
at 15:01
No comments:


adjective
1
: made of an alloy of copper and zinc used especially to imitate gold in jewelry
2
: counterfeit or spurious
Though our hosts were not outwardly unfriendly, we suspected that their kindness to us was pinchbeck.

"Presently, your uncommon brooch will interest folks who collect scarab or Victorian jewelry, pinchbeck pieces or antique Egyptian items. If the pin has a strong, working clasp and no damage, it is valued at $75 to $125." — From an article by Alyce Hand Benham inThe Press of Atlantic City, May 18, 2013
On November 27, 1732, an advertisement ran in a British newspaper announcing that "the toys made of the late ingenious Mr. Pinchbeck's curious metal ... are now sold only by his son." The Mr. Pinchbeck in question was Christopher Pinchbeck, a London watchmaker who invented the alloy that would be posthumously named for him. Although the metal is used as a substitute for gold, the word "pinchbeck," which can also be used as a noun, didn't acquire its "counterfeit" sense until the 1790s, over 50 years after Pinchbeck's death.
M-W
Posted by

karTER
at 14:43
No comments:


In a 1997 letter to Manhattan-based radio station
WNYC
, author
Kurt Vonnegut
pitches his idea for a series of fictional interviews with the deceased. In fact the idea came to fruition and numerous 90-second segments —
one of which can be heard here
— were subsequently broadcast, with interviewees ranging from the non-famous through to names such as Isaac Asimov and William Shakespeare. These interviews were also compiled in the book,
God Bless You, Dr. Kevorkian
.
Transcript follows. Image courtesy of
WNYC
. Huge thanks to
Matthias Rascher
for bringing it to my attention.
Transcript
Mar 25 97

Dear Marty --

I have indeed noodled around some with your most recent flattering proposition. I came up with this:

"This is Kurt Vonnegut, your NPR reporter, thanks to controlled near-death experiences, from the afterlife. NPR thanks the people of Texas for my use of their lethal execution chamber at their adult correctional facilities at Huntsville, which has made possible my now more than one hundred visits to Heaven, and my returning to life to tell the tale."

What would follow would be my account of how people now dead, names taken from the NYT obituaries or the Enquirer or whatever, feel about what happened to them when they were among the living.

I don't have a million ideas. That's my only one.

There is no hell, but since the O.J. Simpson trial there is serious talk of constructing one. It would be modeled after the Atlanta Airport.

Cheers --

Kurt Vonnegut
8.5 million tons of water evaporates from the Dead Sea every day.
"Setting a good example for children takes all the fun out of middle age."
-- William Feather
Posted by

karTER
at 14:36
No comments:


Not wanting to wish time away, but we have Ross coming down to visit on Friday and he'll be staying a couple of days. He's a pal from Bangkok who has been working back in the UK recently and he's on a job nearby.

Can't wait to catch up with him and see how he's been doing. He must also be due back in Thailand soon too, as he's another huge fan of this beautiful country.
Posted by

karTER
at 14:35
No comments:


The rain has left us in peace and we've been greeted with lazy sunshine and a slightly cooler start to the day. We're off to Sunderland today having postponed it from the weekend as they had the air show on and traffic/parking would have been a nightmare.

It will make a pleasant change and at some point we'll have to venture into Newcastle proper too, perhaps next week?
Posted by

karTER
at 14:33
No comments:


I'm not quite sure how wifey managed it (the wi-fi dongle is on her account and so she had to deal with 3 directly) but she managed to not only double our monthly limit to the maximum available, so now 10 Gb, but she also got us a price reduction.

OK, a pound a month is hardly a huge discount, but it was brilliant bargaining and reflects how well she has adapted to life in Bangkok. 10 Gb for £15/month on a rolling 30 day contract is bloody excellent.
Posted by

karTER
at 14:29
No comments:


Having discovered that our internet data allowance is close to expiring with over a fortnight to run, we've managed to upgrade our contract and double our limit.
That's the good news. The bad is that it doesn't kick in until the 2nd August, which is still three days away and the limit is slowly ticking down. This means that our offering on the Blog will be curtailed until we get our upgraded limits, so bear with us until then.
Ta.
:o)
Posted by

karTER
at 14:27
No comments:


Monday, 29 July 2013
After July's heatwave "changeable" weather is expected for much of August, with rain likely and only average temperatures for the time of year.
While the mercury reached as high as 33 C during the hot, dry weather of this month, average temperatures for even in the South East in August are predicted to be around 21 C, the Met Office said. The North West of the UK is likely to see the wetter of the weather in the month ahead, with average temperatures only around 15 C.
Oh, goody...
8.5 million tons of water evaporates from the Dead Sea every day.
Posted by

karTER
at 14:42
No comments:


A Spanish man has died after he downed 13 pints in 20 minutes during an annual beer drinking competition in Murcia, Spain. He took part in the annual beer drinking competition during a festival in the Gea y Truyols district, which sees contestants down as much beer as possible within a 20 minute time frame.

According to local reports he drank around six litres of beer and won the competition, but then started vomiting, and did not stop. He was put into a chair and appeared to sleep while the emergency services were called but by they arrived he was in cardiac arrest and was rushed to hospital. He died shortly after being admitted to hospital.

The beer drinking competition has been part of the area's festival for 15 years, but in light of man's death, this year's festivities have now been suspended.
Posted by

karTER
at 14:41
No comments:


A Office for National Statistics (ONS) and Health and Social Care Information Centre (HSCIC) poll of 7,500 children, aged 11-15, in England found that in 2012, only two fifths had ever drunk alcohol, compared to 61% in 2002.

Researchers found that the proportion of high school pupils who have tried drinking or smoking is highest in the north-east of England. But the proportion of youngsters who had tried drugs was highest in southern regions and lower in the north.

A Department of Health spokeswoman said: "We're pleased that fewer young people are drinking, smoking and taking drugs.

"Despite clear progress, we know there's more that can be done to support healthy behaviours in young people, including our plans to challenge alcohol manufacturers and retailers to increase their efforts through the Responsibility Deal."

The survey also showed that 10% of pupils had drunk alcohol in the last week. The prevalence of recent drinking has reduced significantly since 2003, when 26% of pupils had drunk in the last week, and is lower than in 2011 (12%).

A spokesman for the Portman Group said: "It is encouraging to see that the number of children drinking continues to fall and that fewer children consider it acceptable to drink. However, there are still those who continue to drink, and do so to harmful levels. The industry will continue to work in partnership with both local and central government to ensure targeted and effective measures are in place to deal with under-age sales and binge-drinking where they are most prevalent."

Progress has also been made in the number of times that children drink, with the number of pupils that drank at least once a week falling to 6% in 2012 down from 19% in 2003.

WSTA Chief Executive, Miles Beale said: "This report shows that good progress is continuing to be made in tackling underage drinking. The number of young people that have never drunk alcohol has increased and those that do drink are drinking less frequently.

"The combination of education and responsible drinking messages is reaching young people. That is why our members continue to invest millions of pounds in campaigns to change attitudes to alcohol misuse."
Posted by

karTER
at 14:38
No comments:


San Francisco-based model and designer
Bad Aby
of has created the "
Sharkini
," a one piece shark bite swimsuit "with side cut out, leatherette "teeth" trim and one chain strap." It is
available to purchase at Storenvy
.
images via
Bad Aby Designs
Explore more infographics like this one on the web's largest information design community - Visually.
Today I found out
how the French flag came to be as it is today.
As with several other countries, the original flag of France was that of a saint—in this case, the oriflamme, the flag of St. Denis. The original banner had three to five pointed ends, more like our idea of a pennant than a flag, and was likely made of red silk without any decoration. It later morphed into oriflammes that had yellow stars or sunbursts with a red background, which was symbolic of the blood of the beheaded St. Denis. Charlemagne supposedly carried it to the Holy Land and the flag was considered his personal banner, but most likely the flag's first use as a symbol of the royal house was in the reign of Louis VI, around 1124.

In 1328, the House of Valois rose unexpectedly to the throne after the Capetian line died out—Philip IV's three sons all died leaving only female heirs behind, who could not inherit the throne. The House of Valois' coat of arms consisted of three fleurs-de-lis on a blue field bordered in red. The coat of arms was the basis for a new French flag. When the Bourbons took over the crown, the background of the flag changed to white in honour of their family colours, but the fleurs-de-lis remained.
The current French flag is called the tricolore. It consists of three equal vertical stripes of blue, white, and red. It was initially established as the flag of France after the French Revolution of 1789. The revolution called for liberty and equality, and the simple flag went against the traditional, more extravagant flags used by members of the nobility.
There are several theories regarding the symbolism and position of the colours of the French Flag. The colours are believed to have been inspired by a rosette that appeared during the revolution. Red and blue were the colours of Paris and appeared on the Parisian coat of arms—blue was associated with Saint Martin, while red was associated with Saint Denis. White had turned into the colour of royalty. With the white sandwiched between the red and blue, it supposedly symbolized the control of the people over the monarchy. However, others said that it was inspired by the American revolutionaries, and another theory is that the tricolore was inspired by the design of the Dutch flag.
The tricolore was first used as a canton in the French navy in 1790. A "canton" refers to a quarter of the flag, likely the top left hand corner, like the stars of the American flag and the Union Jack on various flags in the British Commonwealth.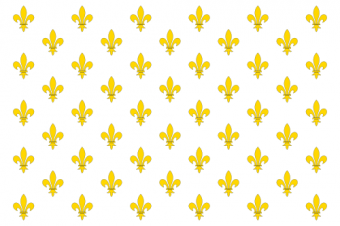 In 1794, the French National Convention named the tricolore the national flag of France, but this act wasn't met with resounding approval. The navy, for one, resisted using the full flag—they still wanted to sail under the white flag of the monarchy. During the revolution, the national flag was rarely used, and people favoured the red flag of the Jacobin Club instead because it symbolized defiance and national emergency. The tricolore wasn't used by the army until 1812, which had until that point been using a flag with a white cross on a red and blue field.

The use of the tricolore initially was relatively short-lived. In 1815, Napoleon was overthrown and the Bourbon monarchy was restored, and with it the white and fleurs-de-lis flag. Fifteen years later, in 1830, the July Revolution took place. It saw the placement of the "citizen king" Louis-Phillipe on the throne. Louis-Phillipe was a distant cousin of the Bourbon king and had agreed to rule as a constitutional monarch (though he, too, would one day be overthrown). He agreed to restore the tricolore as the national flag of France, and it has been in use ever since.

Today, the colours are said to mean "liberty, equality, fraternity"—ideals associated with the revolution that still resound in the hearts of many French citizens. Another theory is that the flag colours have come to represent "the blue of their history, the white of their hopes, and the red of the blood of their ancestors."

Bonus Facts:

"Oriflamme" now refers to a "banner with pointed ends" in French.
The Dutch flag, with three horizontal stripes, is considered the first tricolour.

In addition to the canton, other parts of the flag include the "hoist" or the half closest to the flagpole, and the "fly" or the half furthest from the pole.
An interest in various countries' flags makes someone a "vexillologist." Vexillology is defined as "the scientific study of the history, symbolism, and usage of flags or, by extension, any interest in flags in general."

The use of the French flag is a lot steadier than the French monarchy. The "citizen king" was overthrown in 1848 following yet another revolution. He was the last king of France, though Napoleon III is considered to be the last monarch. In a sad twist of events, Louis-Philipe's father was beheaded during the Reign of Terror despite supporting the Revolution of 1789.
Many French colonies during the colonialism period used a full tricolore with an additional symbol, or placed the tricolore in the canton on their flags. Today, the flag of Quebec—a French-Canadian province—more closely resembles a pre-revolutionary flag than the tricolore, with a blue background, four white fleurs-de-lis, and a white cross.
TIFO
The first drug that was sold as a water soluble tablet was aspirin in 1900.
Posted by

karTER
at 14:24
No comments:


Two goals from Marco Reus inspired
Borussia Dortmund
to beat the Champions League holders
Bayern Munich
4 - 2 on Saturday in the German Super Cup final, consigning
Pep Guardiola
to defeat in his first competitive game in charge.
In a hugely entertaining encounter between the teams who contested the Champions League final in May, Dortmund looked to have lost none of their sharpness while Bayern were badly missing their injured winger Franck Ribéry and the goalkeeper Manuel Neuer.
Dortmund, who played second fiddle to the treble winners in all competitions last season, had a perfect start when Reus headed in after sixth minutes when Bayern's Tom Starke failed to hold on to a Sven Bender header.
The Bavarians levelled eight minutes after the restart when Philipp Lahm floated a perfect cross from the right and Arjen Robben headed in at the far post.
Dortmund then struck twice in two minutes with Daniel van Buyten heading in an own goal in the 55th minute from an Ilkay Guendogan cross. The Germany international then gave the hosts a two-goal cushion with a fine solo effort and well-struck curled shot from the edge of the box.
Robben cut the deficit seven minutes later, picking up yet another Lahm assist to turn and drill in for his second goal, but the new Dortmund signing Emerick Aubameyang set up Reus for his second in the 86th minute to complete a successful start to the season.
TG
Posted by

karTER
at 13:27
No comments:


Explore more infographics like this one on the web's largest information design community - Visually.
Posted by

karTER
at 13:21
No comments:


Sports Direct's entire 20,000 part-time workforce are employed on zero-hour contracts at a time when 2,000 full-time staff are about to cash in bonuses of up to £100,000.
The contracts, handed to 90% of the company's 23,000 employees, leave staff not knowing how many hours they will work from one week to the next, with no sick pay or holiday pay, and no guarantee of regular work.
Bosses at Sports Direct, the UK's biggest sports retailer, were this month hailing their bonus policy for full-time staff as that of a model employer.
The Guardian has also discovered that the bonus scheme rules give managers the power to exclude a member of staff if they are considered an "unsatisfactory performer", although they do not precisely define this term and it could be subject to abuse, according to employment lawyers.
About 20 current staff are known to have been excluded from the scheme already, while others who had been excluded have since left, according to the Unite union.
The four biggest supermarkets in Britain, Tesco, Asda, Sainsbury's and Morrisons, said they do not use zero-hour contracts. Other retailers to confirm that they do not employ staff on these terms include Argos, B&Q, Homebase, John Lewis and Marks & Spencer.
Politicians have been campaigning to ban the contracts and have called on Mike Ashley, the billionaire owner of Sports Direct, to consider introducing part-time contracts with guaranteed hours.
Former and current part-time staff have also spoken out against zero hours, stressing the uncertainty created by the contracts, under which work can be cut with less than a day's notice. Others said regional managers may reduce staff hours if targets are not met.
Meanwhile, some staff still entitled to the bonus – which pays out in the form of shares next month – have suggested it has created a culture of fear that they may lose out if they are deemed to be "unsatisfactory".
Andy Sawford, the Labour MP for Corby, who has submitted a private member's bill to try to ban the use of zero-hour contracts, said: "It would be much better for Sports Direct to instead of offering bonus gimmicks, they should offer their staff the security of proper contracts.
"The zero-hours contracts are highly exploitative and suit the company because it keeps people in a fragile state where they are at the beck and call of their employers."
Alison McGovern, the Labour MP for Wirral South, is also campaigning for businesses to offer fewer such contracts.
She said: "It seems quite bizarre that a company would on the one hand be awarding bonuses in this way, and treating other staff in a completely different way.
"I would want Sports Direct to see if there is a possibility of more fixed term contracts. It appears this has been imposed across the board and is inappropriate. How can there be any investment in employees, or training or progression?
"Lots of workers in retail start off part-time on the shop floor and rise to the top, but with zero-hour contracts there is no incentive at all."
Some 2,000 permanent full-time staff who have been with Sports Direct since 2008 are to get a bonus paid in shares worth about £75,000 each for hitting profit targets. A similar payout, of shares worth about £17,500, was awarded last year.
Sports Direct's chief executive, Dave Forsey, told the Guardian at the time: "The share scheme glues this company together. These schemes are typically only for the executives, but this goes deep into the company. I'm surprised more businesses haven't adopted something like this sooner."
The Guardian has seen a copy of the share scheme rules, stating it is "intended to drive group performance and to motivate and retain permanent employees at all levels of the group, and to align the interests of those employees with those of shareholders".
However, the document adds that employees can be excluded from the scheme.
It says that any "participant who is determined to be an unsatisfactory performer" will not get the shares.
"For the purposes of the scheme, an unsatisfactory performer means a participant who at any time during the period between the grand date of his award and any relevant vesting date has been (a) notified in writing that his performance is unsatisfactory, or he has been given a written warning or other sanction under the company's disciplinary policy in place from time to time, or (b) suspended from his employment by reason of suspected gross misconduct."
By comparison, John Lewis, which runs one of the best-known employee bonus schemes in the country as part of its partnership structure, pays all employees a bonus regardless of disciplinary warnings against them.
Employment lawyers have said the wording is too vague and could be abused.
David Cohen, consultant solicitor at Keystone Law, said: "It is unusual under an all-employee share scheme for the directors to have the power to deprive continuing employees, as opposed to 'bad leavers', of their share awards.
"If workers generally became aware that the scheme was being operated in a capricious and arbitrary way, the company would risk frittering away the reputational and motivational advantages of putting in place such a generous scheme."
Sports Direct declined to comment.
TG
Just bought a heavier jacket from there- the company is very big in the north east, but had no idea of the working circumstances. May explain the sales staff attitude, mind.
Posted by

karTER
at 13:18
No comments: