k'telontour travel the world; but very S-L-O-W-L-Y...
We stay in places and countries most people can only dream about, so while on the road we tell you what it's like. If we're not travelling for a while, we live like locals, observe our surroundings and check out the news. We also take the piss- A LOT...
Thursday, 25 December 2014
Pipers piping? Geese-a-laying? Five goool-den rings? What in the name of yule logs is this song all about? The short answer, it turns out, is that many people have asked that question, and there are nearly as many answers. Here are twelve to get you going.
1. LOTS OF PEOPLE, PARTICULARLY ONLINE, INSIST THE SONG IS CATHOLIC CATECHISM.
The story goes that from the 16th to the 19th century, when being a Catholic was a crime in Protestant England, children would sing this song to profess their forbidden faith. The partridge and the pear tree was Jesus Christ, the four calling birds were the four gospels, the pipers piping were the eleven faithful apostles, and so on.
2. BUT THAT'S PROBABLY NOT TRUE.
For one thing, it doesn't fit the bill as a catechism song. All 12 things it professes to secretly represent—the books of the Bible, the six days of creation, etc.—would have been acceptable to Protestants as well. For another thing, this rumor seems to have popped up in the last 25 years, and then spread like wildfire, as such things do, on the interwebs, without reference to any original sources.
3. THE PRECISE ORIGIN OF THE SONG IS UNKNOWN.
But scholars on the subject (and yes, there are scholars on the subject!) agree that it was first published either as a children's song or a Christmas carol in the late 18th or mid-19th century. Edward Phinney, a professor of classics at the University of Massachusetts, Amherst, put the first publication at 1868, but it also shows up, in slightly altered forms, inMirth without Mischief, which was published around 1780, and James Orchard Halliwell'sThe Nursery Rhymes of England, which was published in 1842.
4. THEY WEREN'T ALWAYS "FOUR CALLING BIRDS."
The "four calling birds" that we sing about today were, at different times, "four canary birds" and "four mockingbirds," and before that they show up as "colly birds" or "collie birds," which is the archaic term for blackbirds. There were however, for some reason, always four of them.
5. AND "5 GOLDEN RINGS" PROBABLY DON'T REFER TO WHAT YOU THINK THEY REFER TO.
There's pretty good evidence suggesting "five golden rings" is actually a reference to the yellowish rings around a pheasant's neck or to "goldspinks," an old name for a pretty little bird called the Goldfinch—not to the hand jewelry. And that actually makes sense, considering every other lyric in the first seven days of the song references a bird: a partridge, turtle doves, French hens (or "fat ducks," depending on the version), calling birds (or black birds), swans and geese.
6. ABOUT THAT PARTRIDGE ...
Another rather credible origin story concerns the partridge himself. Some evidence suggests that the lyric, "partridge in a pear tree," is actually an Anglicization of what would have begun as a French word for partridge: perdrix. The original line would have been "a partridge, une perdrix," which, when you say it out loud, sounds a whole heck of a lot like "a partridge in a pear tree."
7. THERE ARE MORE RENDITIONS AND PARODIES OF THE "TWELVE DAYS OF CHRISTMAS" THAN PROBABLY ANY OTHER CHRISTMAS CAROL OUT THERE.
Over the years, the song has been done and re-done by everyone from the Chipmunks, Winnie the Pooh ("a hunny pot inna hollow tree!") and Ren and Stimpy, to Lucille Ball and Ol' Blue Eyes himself. In Sinatra's version, he replaces the traditional gifts of birds with things he'd like: "Five ivory combs, Four mission lights, Three golf clubs, Two silken scarfs, and a most lovely lavender tie." In a version by Bob Rivers, a Seattle radio personality, he replaces each "gift" with one of the inconveniences of Christmastime: "sending Christmas cards," "facing my in-laws," and, course, "finding a Christmas tree."
8. THE SONG MIGHT HAVE STARTED AS A KIDS' GAME.
Lots of people who've looked into the subject, including Phinney, the Amherst professor, say the song probably arose as a kids' memory and counting game, wherein groups of children would take turns singing each lyric around in a circle. If a kid messed up, he was "out," and the game continued. In some retellings, the game worked a little more like Spin the Bottle: if a kid messed up, he owed someone a kiss (the musical version of mistletoe!). In either case, the goal was to count all the way up to 12 and back down without stumbling, forgetting a lyric, or getting your tongue twisted up on any of the sinuous bits, like "seven swans a-swimming."
9. SPEAKING OF COUNTING, AND FOWLS ...
Every December, a group of birders, amateur and otherwise, venture out in the frigid countryside and count birds in the weeks surrounding Christmas. The so-called "Christmas Bird Count" came about in 1900, when conservationist, bird-lover and early Audubon-ista Frank Chapman convinced a handful of people to stop hunting birds on Christmas, and to start counting them instead. In 1900, 27 groups of "Christmas Bird Counters" traversed the countryside from New England to California. Nowadays, upward of 2000 groups, with tens of thousands of participants total, continue the tradition, making it the longest running and most valuable citizen census of existing bird populations in America today.
10. BUT BACK TO THE SONG! IT'S PROBABLY A LOVE SONG.
"If you think of all the things being presented, they're all gifts from a lover to a woman," Phinney told
The Southeast Missourian
in 1990. "Some of them are rather impossible to give, like eight maids a-milking and nine ladies dancing. All those ladies and dancing and pipers and drums imply this is a wedding." In a 2009 episode of the American version of
The Office
, Andy Bernard, who is Erin's office Secret Santa,
gives her each item on the "Twelve Days of Christmas" list
in an attempt to woo her. At some point, Erin, flummoxed by the influx of large fowl at her desk, beseeches her Secret Santa to please stop, due to injuries caused by the wild animals. At the end, Andy admits he has been giving the poorly conceived gifts—just as a cacophonous parade of 12 drummers enters the set.
11. AND WHAT'S A WEDDING WITHOUT CONSUMMATION?
Phinney says the song is rife with references to fertility (maids a-milking, lords a-leapin', geese a-laying, if you know what I mean). The final gift—the partridge in a pear tree—is the ultimate lover's offer, Phinney says. The pear is heart-shaped, and "the partridge is a famous aphrodisiac."
12. ALL THESE GIFTS WOULD COST A PRETTY PENNY.
Every year since 1984, a group of economists at PNC Wealth Management have figured out how much it would cost to actually buy all the things on the "Twelve Days of Christmas" list. The so-called Christmas Price Index indicates inflation and the increasing costs of certain goods. This year, for instance, if you were really going to buy everything on that list—which includes hiring drummers and dancers (per performance) and milking maids (per hour), and, presumably, a group of men who are willing to leap for pay—it would run you $114,651.17. Compare that to 1990, when you could get away with the whole shooting match for a cool $15,231.70. At today's prices, a performance of twelve drummers drumming would set you back an average of $2,854.50, while seven swans will run you a whopping $7,000.
Wednesday, 24 December 2014
UK beer sales are expected to end five consecutive years of decline by the end of 2014, although cider looks set to lose its recent buoyant momentum.
New research from Mintel anticipates a 1.3% uplift in UK beer volumes to reach around 4.24 billion litres for 2014. This marks a positive turnaround for the sector, which saw sales fall by more than 500 million litres between 2009 and 2013 alone.
Category leader lager is emerging as the main driver of this growth, with sales up by around 1.7% in the last year to reach a predicted 3.17bn litres. The craft movement has helped to boost the ale sector, which is set to add around 6m litres this year, although stout sales continue to decline.
Analysing the cause of this overall revival of fortunes, Mintel senior drinks analyst Chris Wisson commented: "Pressures on household finances, health concerns and competition from other markets have led to significant volume sales decline over the past five years for the beer market.
"However," he continued, "2014 has seen volume sales finally bounce back into growth, buoyed by a warm summer and the football World Cup. Whilst much of the market's recent value growth has been driven by inflation and the now-defunct beer tax escalator, successive 1p cuts on the tax on pints and the slowdown in the cider market bode well for beer's improving fortunes."
Despite the recent proliferation of flavoured ciders, whose value sales rose by just over one third this year, the category as a whole is expected to see volumes dip by around 0.8% in 2014 to 949 million litres. This marks a contrast with the last few years, which saw cider sales increase by 10% in 2012 and 6% in 2013.
In order to counterbalance the effect of this slowdown, a number of the UK's biggest cider producers have been
channeling efforts into the development of export markets
such as the US,
where cider off-trade sales rose by 94% last year
.
Drawing a link between cider's decline and the uplift in beer, Wisson suggested: "Some of cider's momentum appears to have been lost to a rejuvenated beer category, which is seeing strong growth from various segments such as craft and world/global beers."
Sad that Bonham Carter and Burton are reportedly separating but bliss for us who watch his films and see her bug-eyed, hammy overacting shoehorned into everyone of his flicks.

Go and do an audition like everyone else.
Apparently the time between Christmas and New Year.

Who comes up with these fucking things? Twats.
I'll never forget the rubbish party I attended at a youth club when I was a fledgling teen. There was music, high jinks and a bowl of fruit punch as big as a duck pond. The youth leaders thought it would be amusing to tell us that the punch was alcoholic. It had an oddly musty taste, which turned out to be brandy flavouring, and sure enough, the leaders stood back and watched the room descend into animalistic chaos.
Imaginary inebriation

What the youth leaders, who were barely adults themselves, didn't know was that they'd have been taken in just as easily, had the tables been turned. It is extraordinarily well documented how easy it is to trick people into thinking they're drunk. In fact, so infectious is drunkenness that even people who attend parties fully aware of their sobriety talk of getting a free ride off the boozers.

The alcohol placebo effect doesn't only make people less inhibited and prone to monkeying around. It can impair memory and judgment, as well. In 2003, a bunch of students in New Zealand were tricked into thinking that the flat tonic and lime they were drinking was vodka. It was presented convincingly at an actual bar, in sealed vodka bottles. Lo and behold, the unsuspecting undergraduates easily swallowed false information and had serious recall issues, while their contemporaries who were told they were drinking tonic water did not.

Whisky tears, white-wine monsters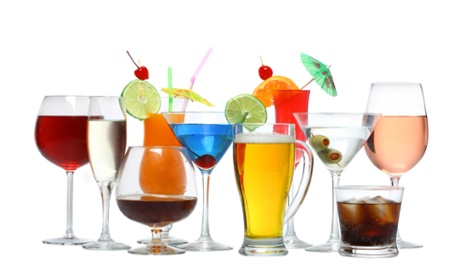 Can blue drinks make you more intoxicated? Photograph: D Hurst/Alamy

Everyone has drinks that they avoid because they make them mad or sad. I don't need to tell you that gin, for example, is an infamous tear-jerker. But talk to a biologist, and they'll tell you that the active ingredient – ethanol – does the same job, whatever the drink. The only differences are the concentration, how easily it is absorbed, how it is consumed and our own expectations. Tequila might unleash your inner kick-boxer, but if you drink any strong spirit in ritualistic shots, with everyone egging you on, it is likely that you'll act wild and crazy in some fashion or other.

Admittedly, there isn't a huge amount of empirical evidence on this subject. To get funding, research tends to need to be seen as potentially beneficial to society or be of commercial use. Besides, people of a scientific bent don't feel much need to be further convinced that alcohol is alcohol is alcohol. In 1970, though, researchers did compare the effects of vodka and bourbon on alcoholics who were holed up together for 18 days. The participants drank bourbon for nine days, then vodka for nine days. Suffice to say, "no consistent differences in behaviour" were detected. The subjects consumed similar amounts of each beverage, and both drinks made them more sociable at first, before they steadily sank into anxiety, depression and hostility. The most intoxicated even became "grossly psychotic", observed the researchers. So next time you're deliberating at a bar between bourbon or vodka based upon the direction you think each will send your mood, just flip a coin.

It does seem, however, that funny-coloured drinks make people more drunk. The Oxford experimental psychologist Charles Spence refers me toa paper from a team at Southampton University in 1997, which found that when people were given an unfamiliar drink (a blue, peppermint concoction), they become more intoxicated, faring worse at tasks such as word searches, than others who drank beer of the same strength. "This, of course, links to St Patrick's Day, when people drink bright-green beer," Spence says.

Different drinks, different hangovers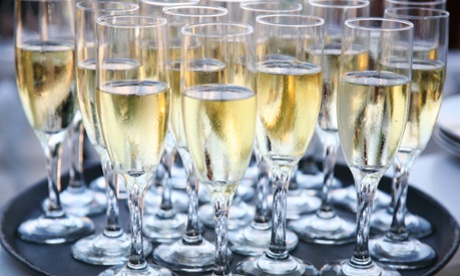 Does champagne give the worst hangovers? Photograph: Jacqueline Veissid/Getty Images

OK, OK, wines, beers and spirits contain chemicals other than ethanol. These do affect how we feel, but more in that some are toxic and will lead to worse hangovers than others, rather than one making us dance really well while another makes us better at playing pool. Yes, there is always absinthe, which contains the psychoactive compound thujone, but only an innocuous amount in the stuff (don't let that get in the way of booze mythology, though).

"Cheaper wines," says Professor Roger Corder of Barts and the London School of Medicine and the author of the Wine Diet, "often have all sorts of rubbish in them and give terrible hangovers." And the adage that darker drinks (whisky, beer, red wine) make you feel worse the next day seems to be true: they usually contain more congeners – chemical byproducts from the production process which often contribute to the flavour of the drink.

One congener which deserves a special mention is methanol, which is like ethanol, only more poisonous, and there is often too much of it in brandy, port and even some wines. Methanol can't be metabolised, says Corder, until all the ethanol is cleared from the system, because the enzymes that process it prioritise ethanol. "It just washes round in your body until it is eventually converted to formaldehyde and formic acid, which are neurotoxins." These will make you feel poorly. Methanol is deemed safe if below 200mg a litre. "But sometimes it's over that level," says Corder.

A lot of people say they get the worst hangovers from champagne. This is probably because they guzzle it on an empty stomach having just arrived at a party, feeling skittish. There is, however, some evidence that it gets you drunk quicker. Barry Smith, a philosophy professor who heads the Centre for the Study of the Senses at the University of London and writes about wine (polymath alert), subscribes to the theory that bubbles cause the pylorus valve, which drains the stomach when it's full, to open even when it's not full. Not much alcohol is absorbed by the stomach, whereas 80% gets into the system via the intestine.

As an aside, Smith has also been observing the affects of different music on champagne enjoyment. He found that syncopation best compliments the waves of bubbles – otherwise known as the mousse – washing over the tongue. "If the rhythm matches the bubbles, the brain seems to notice and say, hang on, there's a correspondence here. If it sees some synchronicity between two things then it locks on to them, and becomes much more activated." Jazz and fizz it is then.

But, look, we all know the truth here: if you have a bad hangover, or wept at the Christmas party, it was simply because you were very drunk. Am I wrong?

TG
It's the Christmas movie in which Alan Rickman's character doesn't cheat on Emma Thompson. (
Love Actually
– never forget.) Instead, Rickman plays a German terrorist named Hans Gruber who takes Bruce Willis (John McClane)'s wife hostage – along with others – at a Christmas party, making this soiree way worse than anything your company has ever thrown. The good news? Bruce Willis' reputation as an action hero holds up. The better?
"Yippee ki yay, motherfucker."
No matter what goes down at your family Christmas this year, remember it's nowhere near as bad as what happens when a team of explorers land on an alien planet on
Christmas
day, and must subsequently defend the future of mankind as we know it. However, bonus points for a scene in which Idris Elba decorates a small tree alone on the ship. Charlie Brown would be proud.
True,
Silver Linings Playbook
takes place over the course of a few months, but the catalyst comes at Christmas, when Pat (Bradley Cooper) and Tiffany (Jennifer Lawrence) perform at a dance competition at a festively-decorated hotel. (And that's all I'm going to tell you.)
Look. Not to spoil a movie you've had 24 years to see, but on top of scenes filled with holiday imagery (lights, trees and tinsel), we learn that the reason it snows every Christmas is because Edward (Johnny Depp) once made snow – and an ice sculpture – for the woman he loved (Winona Ryder) to dance in, and kept doing it, even though they couldn't be together. (No I'm not crying – you're crying. Don't look at me.)
If you're into traditional holiday films you've found the perfect reason not to watch this. Set at Christmas, Kubrick's tale of marriage and (in)fidelity is accompanied by traditional trees and lights, creating a stark contrast between the beauty of the season and the movie's dark halls, capes, masks and dead people. (The last scene will also change the way you see Christmas shopping, forever.)
But enough of the bleak: Trading Places delivers the hilarious cautionary tale of what happens when two greedy, evil bankers opt to ruin a stockbroker's (Dan Aykroyd) life. Granted, the movie's not entirely set at Christmas, but we get a scene where Akroyd eats salmon while wearing a Santa suit which, as far as I'm concerned, is the gift that keeps on giving.
Ryan Reynolds represents the best and worst of us as Chris Brander, a guy whose life was miserable in high school, and whose rejection at the hands of best pal Jamie Palamino (Amy Smart) "turned" him into a womanizer in his adult years. Alas, when he comes home for Christmas, disaster ensues – especially since most of us know that our hometowns will never allow us to escape who we once were.
Michelle Monaghan's Christmas ensemble may be one of the only giveaways that this Robert Downey Jr/Val Kilmer vehicle is a holiday film, but that's why we're all here anyway, right? Enter: a hugely underrated film noir that sees a thief, actress, private eye and partridge in a pear tree (just kidding) forced to solve a murder-mystery. Just like the Christmas story taught us.
Admittedly, You've Got Mail takes place from October to spring, but what matters most is that the movie's most compelling scenes – when Joe Fox (Tom Hanks) discovers that Kathleen Kelly (Meg Ryan) is ShopGirl, when they have coffee, when Kathleen realizes she's probably going to lose her store (and again, no, not crying) –occur over the Best Time of Year™. This is also the second time Nora Ephron busted out Christmas catalysts: in 1993's
Sleepless in Seattle
, Tom Hanks' Sam Baldwin calls into the radio station for the first time on Christmas, just as Meg Ryan's Annie Reed tunes in. And that's why all other Christmas movies – and other movies in general – are garbage.
Why does Batman Returns take place at Christmas? Easy: so Batman, Catwoman, the Penguin, and Max can fight under and using various decorations. Because the snow adds a little magic to the bleak Gotham cityscape. Because otherwise we wouldn't know that mistletoe is poisonous. Also, because this was directed by Tim Burton, and by now we know that the only thing he loves more than Halloween is spooky Christmas. Way better than Bane's shearling coat of The Dark Knight Rises. (Sorry, Christopher Nolan.)
TG
Kayne West tree toppers are all the rage on Twitter in 2014. #yeezymastree (
Photo
)
A
tree topper
that boldly goes where no
tree topper
has gone before. (
Photo
)
No, it's not a devilish Nicolas Cage – it's a vintage Krampus topper.
Krampus is the "dark companion" of St. Nick. Bearing
horns
, dark hair, and fangs, the
Santa
comes with a chain and bells that he lashes about, along with a bundle of birch sticks meant to swat naughty children. He then hauls the bad kids down to the underworld. (
Source
|
Photo
)
Totoro is a forest spirit with the ability to fly in
My Neighbor Totoro
, so its no wonder he should make the perfect Christmas
tree topper
. (
Photo
)
Mad Men
-era tree toppers, which we think make
stunning
decorations any time of the year. (
Photo
)
The "Super S Stussy" which was a very popular doodle among school age
kids in the
1980s and 1990s. While it's thought to be is based off a logo for Stussy, it is also rumored to be created by a graffiti artist as early as the 1950s. Whatever it is, it makes
a nice
tree topper
. (
Source
|
Photo
)
David Boreanaz, star of TV's
Angel
is an actual angel here. (
Photo
)
Santa
battles the beast in this King Kong
tree topper
. (
Photo
)
We think Seattle's Space Needle makes a fantastic
tree topper
! (
Photo
)
The Flying Spaghetti Monster is the deity of the Church of the Flying Spaghetti Monster or Pastafarianism, a movement that promotes a light-hearted view of religion and opposes the teaching of
intelligent
design and creationism
in public
schools. (
Source
|
Photo
)
Bumble, the Abominable Snow Monster from 1964's Rankin/Bass special

Rudolph

, the Red-Nosed Reindeer

. He's mean, he'll eat anything and he hates Christmas – that is, until his teeth are removed. (

Photo

)
Yukon Cornelius, the man who tamed Bumble. (
Photo
)
You underestimate the power of a
Darth Vader
tree topper
. (
Photo
)
Even as a
tree topper
, clowns are still creepy. (
Photo
)
Futurama
's Bender – an "alcoholic, whore-mongering, chain-smoking gambler." (
Source
|
Photo
)
Oddee
Turkey's high-speed railways are now completely alcohol-free, after operator Besler decided to stop selling intoxicating drinks on trains between the capital Ankara and the western town of Eskisehir.
The hour-and-a-half journey was the only remaining high-speed line where passengers could still enjoy a sip on board, writes Hurriyet Daily News. Speaking to the paper, a company official insists the decision was purely economic and was taken due to poor sales on high-speed carriages. He says that alcohol will still be served on long-distance, conventional trains. Hurriyet recalls that Turkish Airlines also cited a lack of demand when they stopped serving alcohol on most domestic flights last year.
Health statistics from the Organisation for Economic Co-operation and Development seem to back such reasoning. They show Turkey's consumption rate is just 1.6 litres of alcohol per capita annually, the lowest among all 34 member states. The measure, however, ties in with President Recep Tayyip Erdogan's long-running anti-alcohol campaign. Last year, his Islamist-rooted ruling AK party passed a controversial law in parliament restricting the sale and advertising of alcohol. It was slammed by critics as a new move to impose an Islamic agenda on a secular, though predominantly Muslim, country.
BBC


1. PANTYHOSE
In 1953, Ethel Boone Gant was feeling uncomfortable. While sitting on an overnight train from New York to North Carolina, the expectant mother leaned over to her husband, Allen, and told him that she wasn't going to travel anymore. At least, not until their baby was born. At the time, women wore stockings held up with girdles or garter belts— annoying when paired with a growing belly. The complaint gave Allen an idea. He asked his wife to clip a pair of stockings to her underwear and try them instead—a crude prototype for the pantyhose was born. Allen, who happened to be the head of a textile company, spent the next six years developing his product, and in 1959 "Panti-Legs" hit the shelves. As spandex got cheaper and miniskirts became all the rage in the '60s, the product soon became a staple.
2. THE 3-BUTTON SUIT
Growing bellies actually account for a lot of fashion trends. King Edward VII, for instance, was a legendary eater. With an expanding 48-inch waist, he often kept his bottom jacket button undone. Soon, the style became a trend and the "sometimes, always, never" rule (for the top, middle, and lower buttons) became a hard and fast fashion commandment. In fact, many jackets today are designed to leave the bottom button undone.
3. CUFFED JACKET SLEEVES
The buttons on most blazer sleeves are functionally useless, but some jackets still sport a "surgeon's cuff"—a relic from the 19th century. Back then, a proper gentleman never removed his coat, not even to perform the 1800s version of emergency open-heart surgery. So men tailored suits to their needs, allowing for the possibility that they may need to do an off-the-cuff operation. The buttons allowed men to curl back their sleeves and get their hands dirty while retaining dashing decency.
4. EYELINER
If ancient Egyptians could tell us anything about living in the desert, it would be that the sun can get unbearably bright. It didn't help that the pyramids in Cairo were made of white limestone. So the locals rubbed kohl around their eyes to reduce the glare (the same way athletes do today). The eyeliner had a cooling effect, repelled flies, kept dust away from the eyes, and may have prevented infections because it contained lead salts, a bacteria killer.
5. HIGH HEELS
Originally for soldiers, high heels were once the manliest thing a person could wear. A high heel allowed a cavalryman to lock into his horse's stirrup and keep his balance as he stood to draw a bow. In the 16th century, Persian royals visited Western Europe, and the look caught on; soon elites were flaunting their status by upping the height of their shoes. King Louis XIV (who stood at a modest 5 feet, 4 inches) insisted on parading about in four-inch red heels. At the same time, women started wearing the heels for the opposite reason they do today—to appear androgynous. By the end of the 17th century, the unisex style had become gendered: Men's heels were square and wide; women's were pointy and slender. When the Enlightenment ushered in practical dress, men abandoned the style completely.
6. SEQUINS
When it comes to bling, Liberace and Richard Simmons have nothing on King Tut. The boy king had gold disks sewn into his garments, possibly with the hope of using them in the afterlife. Thousands of years later, from Peru to India, sewing gold and other metals onto your clothes became a sign of wealth and a way to protect yourself from evil spirits. Which explains a lot about the 1970s.
Mental Floss